Latest News
NEW HIKE
Walking the Grand River from Paris to Glen Morris
· Saturday, December 2, 2017
Join us on this walk along the 'end moraine'. View Details
NEW HIKE
Algonquin: Winter Wonderland
· February 4 - 7, 2018
Join us on this special departure and enjoy your choice of both a birding and nature tour (Natura Tours) or the snowshoe trails of Algonquin Park. View Details
NEW HIKE
Insights Into Vietnam
· September 1 - 15, 2018
Our 15 day adventure covers not only the sights of the country but some of the stunning beauty that can only be found "on foot". View Details
Did You Know...

"Wicked Whitlock" completed the Bruce Peninsula Multi Sport Sprint triathlon on August 12, 2017 in 2.42 hours. It involved a 4 km kayak, a brutal 16 km mountain bike and a 6 kms run. Placed 11/19 in the Solo Masters Male 45+. Have to train smarter for next year. Charles is in the red kayak

and lime green hat. The last portion of the run was a very rainy finish.

Charles participated in the 5th Annual Santa run on December 10, 2016 where 500+ participants all wear Santa outfits.
Oh what a hoot! Charles finished FIRST once again in his category, with a pace of 5:31 and an official timing of 27:37.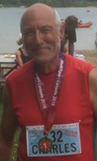 On September 10th, 2016 Charles kept his promise :O) He managed to podium in 1st place (within his age group) at the Lakeside Triathlon. In his words, I guess that my old body is still functioning well.


On Sunday, April 24, 2016,
Gozo 1/2 marathon done. It was one tough run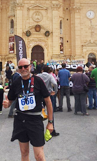 with outrageous hill climbs.
Gozo is the sister island to Malta deep in the Mediterranean.
I'm happy that it is over. Thanks all for sending me best wishes!
Run time was 2:08:58:170.

This was the 2nd time Charles ran in this marathon!
On Saturday Dec. 12, 2015, Charles completed the 4th Annual Santa Pursuit run in Waterloo AND FIRST place in the old guy category, finishing five KM's at 26.45.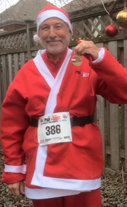 It is such a fun run especially when you have over 700 (local runners) Santa's all looking the same. It looks like we are all cloned.
This race supports the YMCAs of Waterloo Region and raised over $5000 for the Strong Kids Campaign!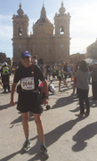 On Sunday, April 26, 2015,
Charles ran his first ever Gozo 1/2 Marathon!
Gozo is the sister island to Malta deep in the Mediterranean.
It was one tough hilly run.

Run time was 1.59.
My target achieved!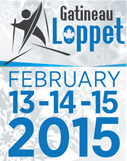 My training paid off for the 27 Km cross-country ski event in Gatineau, Quebec on Feb. 14. All completed in 3 hours and 5 mins. Temperature at start was minus 18. Happy with my time.
On Saturday, December 13, 2014 Charles completed the Santa Pursuit (92nd Place Overall)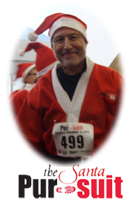 About 720 Santas ran in Waterloo. Oh what a hoot!! This race supports the YMCAs of Waterloo Region
On Sunday, November 2, 2014, Charles completed a 1/2 marathon (hamiltonmarathon.ca) in 1.58 hours - the same time as my run in Malta's half marathon. At least my timing is consistent.
February 23, 2014
January 24, 2014
Charles retires from the Region of Waterloo - leaving more time for treking!
Welcome to walkaway treks!
Walkaway Treks is the name to describe the hiking adventures of Charles Whitlock.
Charles is a passionate hiker who leads his own private hikes. He freelances as a professional hike leader and tour manager for travel agencies and individuals or groups seeking customized trips. He also volunteers as a hike leader for the Grand Valley Trails Association and the Bruce Trail Conservancy. Charles' adventures also include snowshoeing and cross-country skiing.
Join Us
Walking Along the Grand Valley Trail: Saturday, December 2, 2017
Pre-registration for lunch by November 24, 2017.
Contact: Charles Whitlock by phone, 519-742-7435. Mobile 519-505-6298 or to register!
Map: 8. Paris, Ontario
Distance 10 kms, Level 2
Moderate pace at 3/4km/hrs
Car shuttle to start of hike
Lunch in Paris at Cedar House Grill & Martini Bar. Oh la la...
Depart 9:30 am. Meet at kms 59.4 Map 8 (ed.7.0). Cambridge-Paris Trail parking lot, off Willow St/East River Rd (Rd14) west of Green Lane (Rd55). GPS: 43.203970, -80.373060
We will walk along the Grand River from Paris to Glen Morris. The entire ridge along this portion of trail is "end moraine". End moraines are ridges of glacial drift that would have been formed at the edge of ice-sheet. Moraines are rolling landforms, higher than the surrounding countryside.
Bring snacks, beverages and your favorite pair of comfortable walking shoes. Be weather-aware and dress accordingly.

Algonquin - Winter Wonderland: February 4 - 7, 2018
Fully escorted by Charles Whitlock and Kristen Martyn, this unique winter tour will showcase winter's wildlife and the beauty "on foot" of the Algonquin Provincial Park.
Winter birding and nature combined with snowshoe trails! You are invited to join us on this special departure and enjoy your choice of both a birding and nature tour or the snowshoe trails of Algonquin Park. (PDF)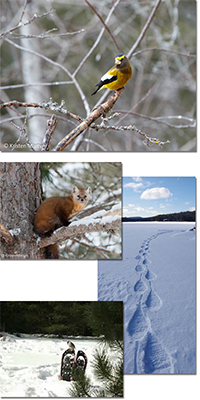 Our fully-escorted tour includes:
Fully escorted by Charles Whitlock of Walkaway Treks and Kristen Martyn of Natura Tours
Private bus transportation throughout pick-ups in London, Kitchener and Toronto (one per city—TBA)
Three nights accommodation at the Holiday Inn Express and Suites in Huntsville
Breakfast daily
Two dinners
All park entry fees
All taxes and fees
Daily walks—snowshoeing or birding escorted by Charles and Kristen
This tour is strictly limited to a maximum of 24 travellers.
Exclusive Reservations - Contact Scott to reserve YOUR spot today!
Phone 519-745-1860 ext 303 or by email, .

Insight Into Vietnam: September 1 - 15, 2018
Asia has always been a fascinating destination full of the rich history of centuries past and resplendent with natural beauty.
Our 15 day adventure covers not only the sights of the country but some of the stunning beauty that can only be found "on foot". You are invited to join our small group as we delve into the hustle and bustle and the tranquility of modern and ancient Vietnam. (PDF)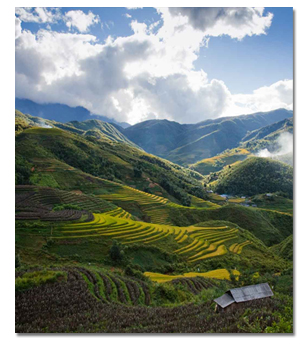 Our fully-escorted tour includes:
Tour manager and escort Charles Whitlock
Local language-capable tour manager
Hotel accommodation & daily breakfast based on twin or double sharing
Overnight cruise in Halong Bay
Private transfers by motorcoach
Domestic air tickets
Entrance fees, sightseeing as detailed and private boat trip
Meals as indicated (no drinks) B: Breakfast, L: Lunch, D: Dinner
Additional sightseeing with local English speaking guides
Our tour will visit Hanoi, Sa Pa, Lao Cai, Halong Bay, Hue, Da Nang, Hoi An and Ho Chi Minh City. Fully escorted and rich with the history, tastes and reality that is today's Vietnam!
Our program is strictly limited and based on a private tour for a total maximum of 19 passengers plus Charles.
Exclusive Reservations - Contact Scott to reserve YOUR spot today!
Phone 519-745-1860 ext 303 or by email, .

F.A.Q.'s
How long are the walking treks?

Trip length varies from single day walks to multi-day hut-to-hut hikes or lodge-based tours.

How hard are the treks?

Trips vary from easy walking to challenging mountain walks.

What is Charles's hiking style?

His first priority is the safety of each participant. Emphasis is on camaraderie and excitement on the trail.