Upcoming Hikes
This page changes frequently as new hikes are confirmed.
Details will describe the hiking event, operator of the event, the contact person and also if pre-registration is required.
For your convenience, you can bookmark this site!
walkaway with us!
Annual Cross-Country and Snowshoe Outing at Highland Nordic, Duntroon:
January 27, 2018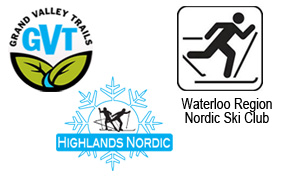 Travel Time: is approximately 2 hours.
Charles Whitlock (GVTA) 519-742-7435 or mobile: 519-505-6298
Email:
Advance registration is required.
Registration and payment deadline is Sunday, January 14th.
The 12th Annual Ski trip to Highlands Nordic (http://www.highlandsnordic.on.ca), courtesy of the WRNSC and the Grand Valley Trails Association, will be on Saturday, January 27, 2018. Travel will be aboard a very comfortable Ayr's coach bus.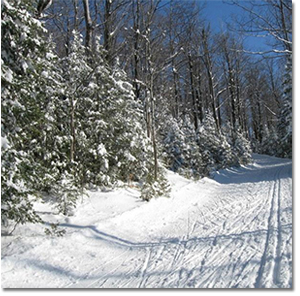 Highlands is a great family destination, with 24 km of impeccably groomed trails for classic and skate skiing. Novice to expert skiers will find a trail to match their abilities. For a different pace, there's also 7 km of snowshoe trails and a toboggan hill (bring your own toboggan, but no GT Racers or stand-on sleds). The ski centre also provides ski equipment rentals (both classic and skate), pro and service shops (they'll even wax your skis), change rooms, waxing facilities and a full service cafeteria that offers hot soup and sandwiches, hot and cold drinks and fresh baked goods.
Depart: Skiers will be picked up in Waterloo, at Conestoga Mall. Please arrive before 8:00 am. Park vehicles at the south-west corner of the mall, south of The Bay. Please park as far away from the building as possible.
Trip cost includes bus fare and ski trail fee. The fee is non-refundable, unless the trip is cancelled.
Fee inclusive of bus and trail:
GVTA/Guelph/Avon/Thames Members: Adults - $48
For Adult Non-Members - $55
Children over 6 and Youths (18 and under) - $40
Make your cheque payable to the Grand Valley Trail Association, and mail it to: Charles Whitlock, 210 Simeon Street, Kitchener, ON N2H 1T1. Please include the number of participants, with their names, age group, contact phone # (mobile preferred) and e-mail address.
The approximate arrival time back to K-W is 5-6 pm (dependent on road/weather conditions).
To reserve your seats, contact Charles Whitlock at

Insight Into Vietnam: September 1 - 15, 2018
Asia has always been a fascinating destination full of the rich history of centuries past and resplendent with natural beauty.
Our 15 day adventure covers not only the sights of the country but some of the stunning beauty that can only be found "on foot". You are invited to join our small group as we delve into the hustle and bustle and the tranquility of modern and ancient Vietnam. (PDF)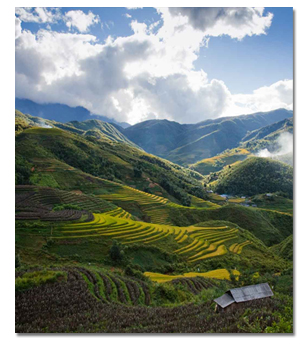 Our fully-escorted tour includes:
Tour manager and escort Charles Whitlock
Local language-capable tour manager
Hotel accommodation & daily breakfast based on twin or double sharing
Overnight cruise in Halong Bay
Private transfers by motorcoach
Domestic air tickets
Entrance fees, sightseeing as detailed and private boat trip
Meals as indicated (no drinks) B: Breakfast, L: Lunch, D: Dinner
Additional sightseeing with local English speaking guides
Our tour (View Itinerary), will visit Hanoi, Sa Pa, Lao Cai, Halong Bay, Hue, Da Nang, Hoi An and Ho Chi Minh City. Fully escorted and rich with the history, tastes and reality that is today's Vietnam!
Our program is strictly limited and based on a private tour for a total maximum of 19 passengers plus Charles.
Exclusive Reservations - Contact Scott to reserve YOUR spot today!
Phone 519-745-1860 ext 303 or by email, .